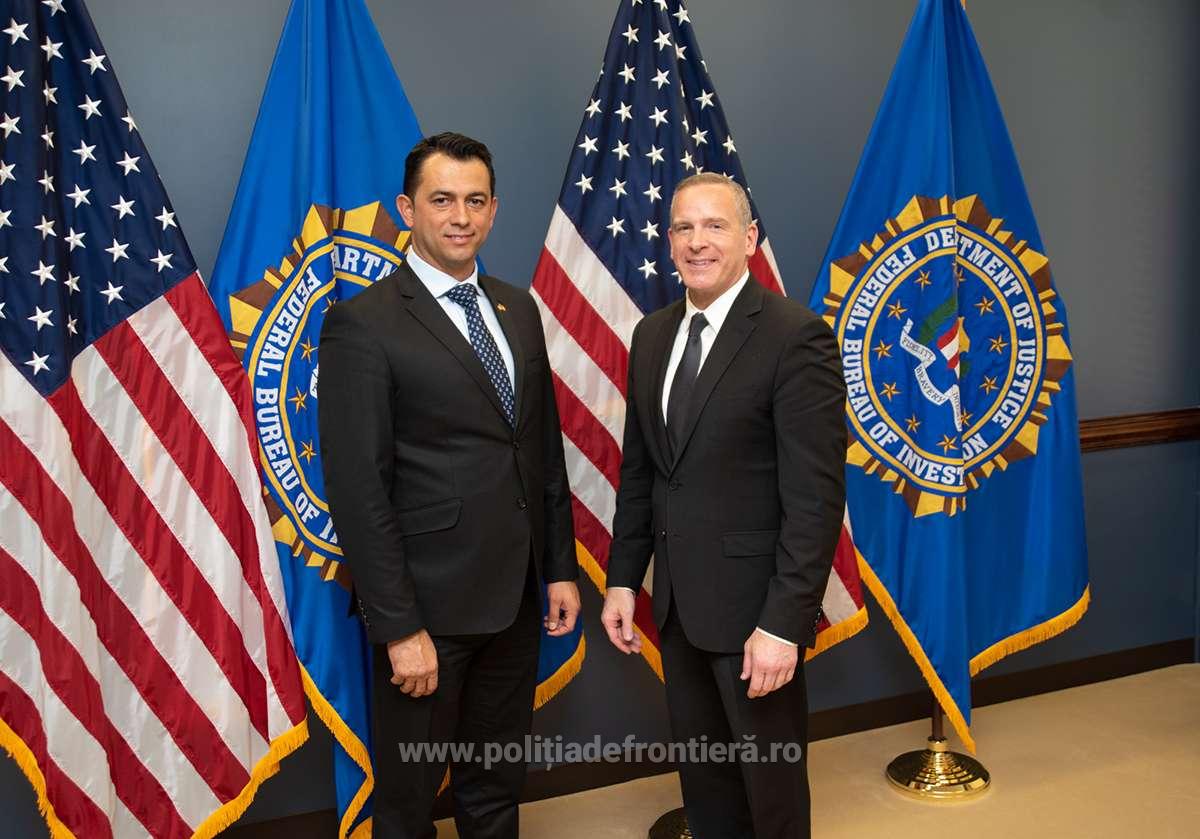 The Inspector General of the Romanian Border Police, Chief Police Commissioner Victor-Ştefan Ivaşcu, had, between 20-22.09.2022, in Washington DC, the United States of America, a series of meetings with the leadership of the Federal Bureau of Investigation ( FBI) and the US Coast Guard. The meetings were organized in the context of the participation in the second phase of the FBI "Critical Incident Response" Workshop. On this occasion, briefings and meetings were held on how critical incident response is managed in the US.
Thus, during the visit to the FBI, the head of the Romanian Border Police held discussions with Mr. Paul Abbate, deputy director of the FBI, about one of the most serious and complex phenomena that our institution manages - cross-border organized crime, mentioning the fact that a good part of the activities are channeled towards combating illegal migration and cross-border criminality, in particular, the smuggling of excisable products, the need for professional training being emphasized at the same time.
Also, taking into account the intensification of attempts to illegally cross the border between Mexico and the USA, with reference to Romanian citizens, the head of the Romanian Border Police specified that he can support law enforcement structures in the USA, including with personnel specialized in several fields from the sphere of illegal migration (false/falsified documents, debriefing, profiling).
In the same context, the Romanian delegation also had a meeting with Mr. Admiral Michael P. Ryan, deputy commander for operations of the US Coast Guard, with whom the possibility of organizing joint trainings, documenting and applying the best practices in the field of coast guard functions, such as: maritime security, protection of the marine environment, search and rescue at sea, etc., but also to achieve an exchange of experience and best practices in specialized training, with an emphasis on procedures work, as well as in order to acquire the best practices in the field of risk analysis, planning and organization of missions and profiling of naval traffic.
During the workshop organized in Washington DC, the chief inspector of the Romanian Border Police, together with the head of the Territorial Inspectorate of the Border Police Sighetu Marmaţiei, chief police commissioner Florin Coman, met and had briefings with the executive staff from within the FBI - Victim Assistance Program and Employee Assistance Program. At the same time, they visited the Intelligence and Strategic Operations Center within the FBI Office in Washington, the Metropolitan Police Department in Washington DC, as well as the Defense Threat Reduction Agency